Tifie Humanitarian has been around much longer than 10 years, at least in spirit. Robert and Angé Workman's desire to do humanitarian work began many years ago. They were unsure of where the desire would go at the time but Angé knew they would make it happen.
We recently interviewed Angé–asking her to look back through the past 10 years of Tifie's ventures–and what she's discovered is how much personal growth has happened during that time.
Development in DRC: Hand Out to Hand Up 
Angé's first trip to the Democratic Republic of Congo (DRC) was in November, 2007, where she visited one of the first farms and orphanage Tifie was involved with. Through the years she saw the changes that can take place when people are given access to electricity, ability to build better homes and the knowledge and resources to running a business. Seeing homes evolve from mud-brick and thatched roofs that melt during the rainy season, to having metal roofs with lights inside was just one of the things she remembers.
The DRC Orphanage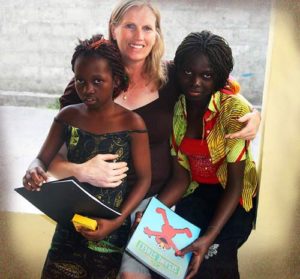 She recalled visiting the young children in the orphanage–though most of them teenagers and adults by now–and seeing the condition they were in. The first orphanage was quite small, the children didn't sleep on beds. The only source of water came from a spigot in the yard and she was unsure of how clean it was.
Through the years she saw a lot of changes to the orphanage; moving the kids to a new facility, getting them beds, separate bedrooms and bathrooms for boys and girls (which became more important as the kids matured), clean water and a kitchen with a stove. The children were put into school, as many were not in school before, and received consistent daily meals.
Angé believes that the work in DRC helped each child individually, but what is for certain, is that the lessons she learned from those early years in DRC left a lasting impression on herself.
Q: How did your experiences in the DRC touch you personally?
"I was very touched, to see the conditions people live in but at the same time they are very happy–they don't have a lot. We don't need a lot of things to make us happy. So I learned a great lesson there. I think I already knew that but it was just cemented in that they were happy and they could exist without a lot of fancy things in their lives and they were able to learn and find joy in the simplicity.

Another thing I saw at the beginning was everybody was reaching out with their hands expecting something to be given to them. And we never did that, we always required that work be done to receive anything. But after we'd been there a few times we didn't see people reaching out with their hands expecting us to give them something anymore."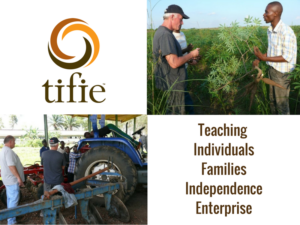 Teaching Individuals and Families Independence through Enterprise is where Tifie's namesake comes from. Teaching people to thrive and not just giving them things is what Tifie's mission has been from the beginning.
The work and people in DRC is not the only thing that has done it's evolving. Through the years, Tifie Humanitarian has changed the way it operates for individuals and communities it serves. (More on that to come as we reflect on lessons learned through the years.) And perhaps, for this reason, Angé has felt that the recent work Tifie is doing has impacted her even more.
A Different African Experience: Ghana 
Angé first visited Ghana in 2015 with the mission to power education. The Kushea Community Partnership is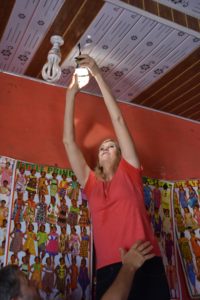 the perfect example of what happens when like-minded people come together with good intent. A partnership created out of our connection and collaboration with Point Innovate, King Nana Prah and Goal Zero. The goal of Project Kushea is to provide sustainable power for the community so individuals, families, and businesses can finally provide for themselves.
She recalls her first trip there feeling similar to that of Congo, aside from some of the infrastructure being more developed within the city but even has you drove out of the city she saw a lot of mud-brick homes with thatched roofs.
Yet, as she arrived in Kushea for the first time, it was an impressive sight. Many of the homes were made of real brick and painted. They had glass windows and metal roofs. It even had paved roads and and streets. She attributes this village's success and progression to it's leader, Nana Prah–who has been King over the area for 30 plus year and continually finds ways to grow and develop Kushea. She believes they are much farther along than what she saw in Congo because their leader had vision to help them rise up. In fact, a lot of Kushea has access to electricity–although it's not always the most reliable–because Prah worked with the government to get it there.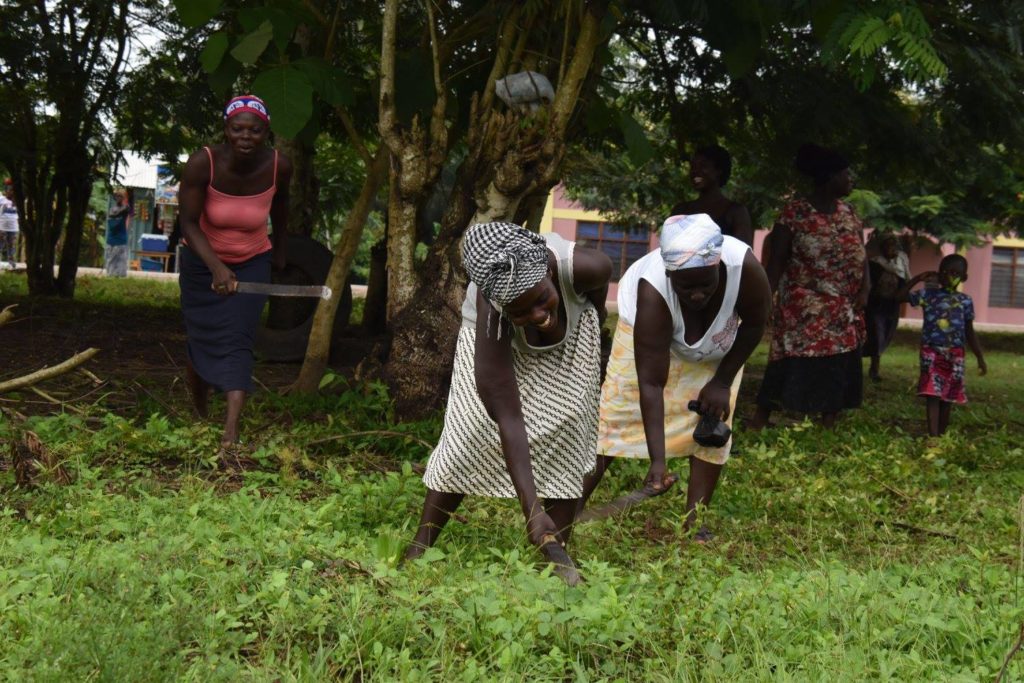 "He even had trash barrels that he'd place all over town with the colors of the Ghananian flag and he expected people to pick up their trash! If he was driving through the village he would honk his horn if he saw some trash on the ground [and] people would right away pick it up because they knew."
Angé's recent trip to Kushea in March 2017 has been one of her most memorable because they were able to install solar power into a school and village that previously had no power. Having access to power at night means kids can study, families can spend time together, and that community events like weddings or classes can occur.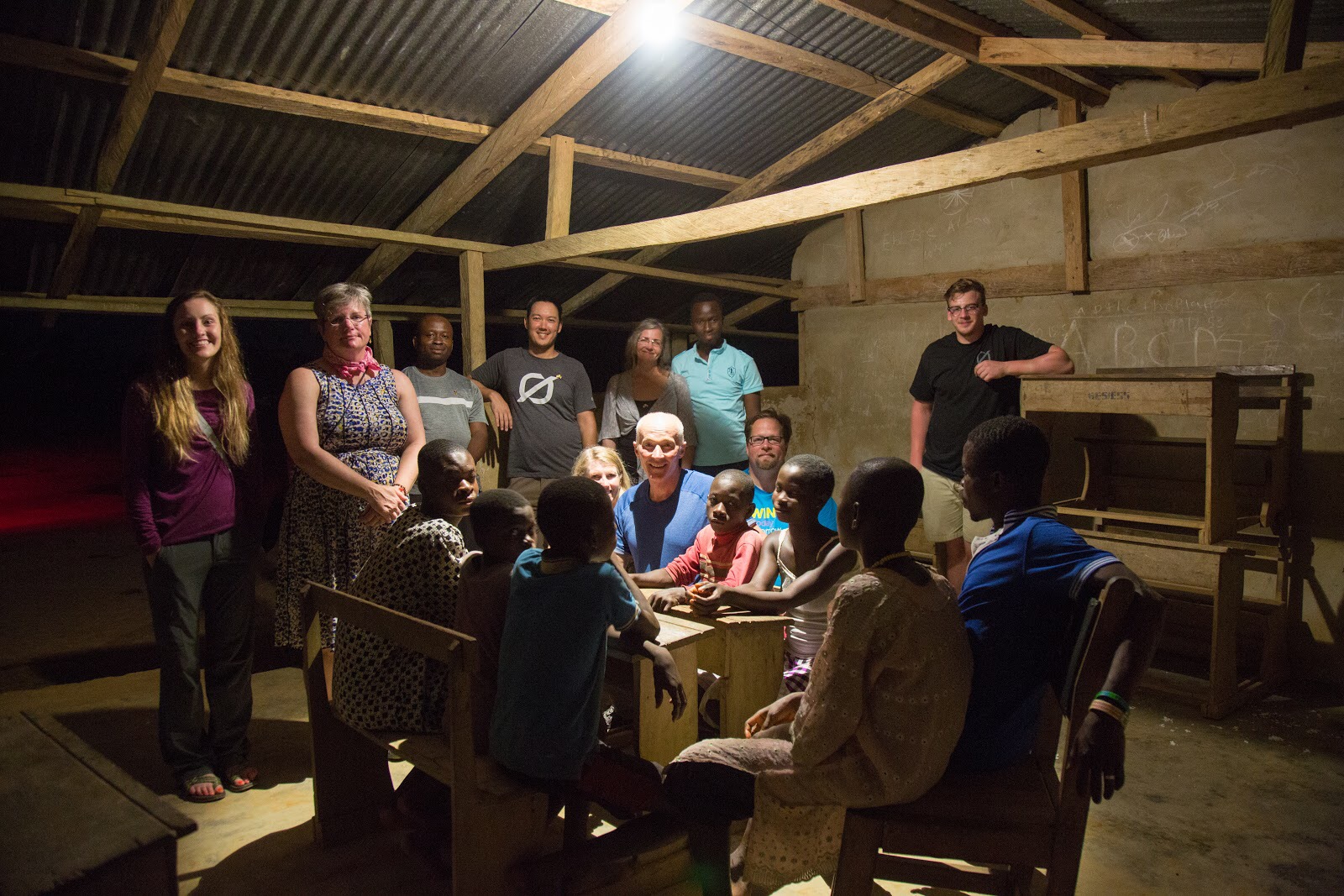 During this last trip Angé was personally able to interview some of the villagers. When interviewing one of the health professionals at Kushea's health clinic, it became apparent that living without power can be devastating.
"The main clinic doctor told me that one time a family brought in a child and the electricity was off. They couldn't do any testing of the blood to see what the problem was. There wasn't anything they could do because it was dark. So the parents ended up leaving and the child died. So it was very impactful for that health care professional to not want that to happen again."
Through the past 10 years Tifie has sought to do good. From it's early days with trying to teach entrepreneurship through creating businesses, to where it is now by partnering with people on the ground. Sometimes the work affects one person, a family or an entire community. But as Angé and Robert have expressed, the good we do always makes an impact on the person doing it. Angé has learned that building relationships on a personal level has made the biggest impact on herself, especially as she reflected on the "then" and "now".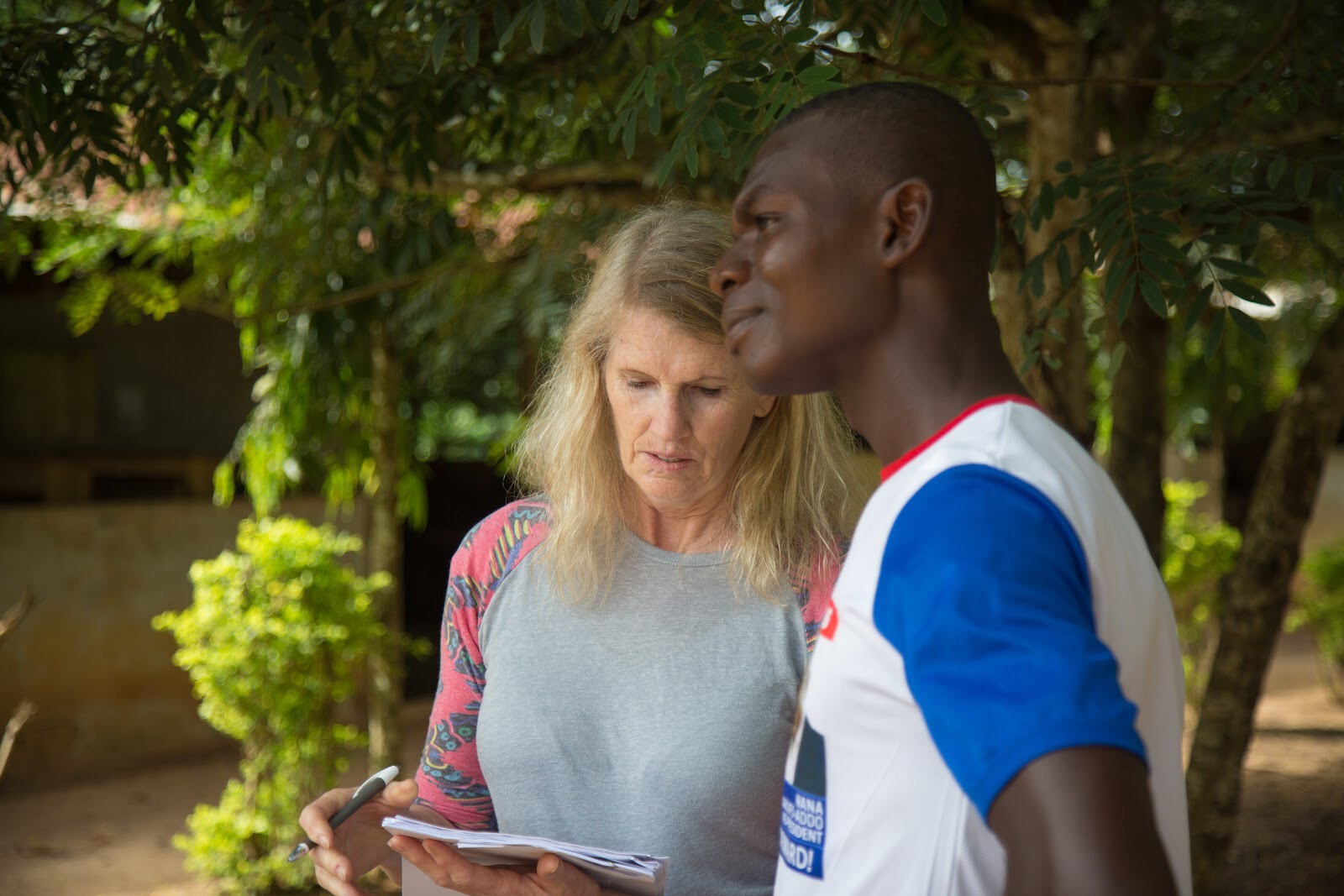 Angé Workman Maternity Clinic surprise and connection with Family Legacy
A special tribute commissioned by Robert awaited Angé during their March 2017 trip. Tifie has worked on projects centered around maternal health, like One Heart and Safe Shelter Nepal, and are proud to support a place that welcomes the next generation into a clean and safe environment.
The Angé Workman Maternity Clinic was a surprise to Angé and she was very touched. Especially because of the connection to midwifery through her family. Her father Arnold Branham being a male midwife, a great great grandmother through her mother LaRae Mills, have been involved with and passionate about midwifery. Angé herself delivered all of her eight children at home. In fact, her father delivered her oldest, Tara Tulley, who also went on to become a midwife.
"It was very touching. I was surprised how emotional I was about it. The legacy of home-birthing is in our family. But after interviewing some of the health care people at the health center, I truly understand why so many women still want to give birth at home. But, now there is a more comfortable option."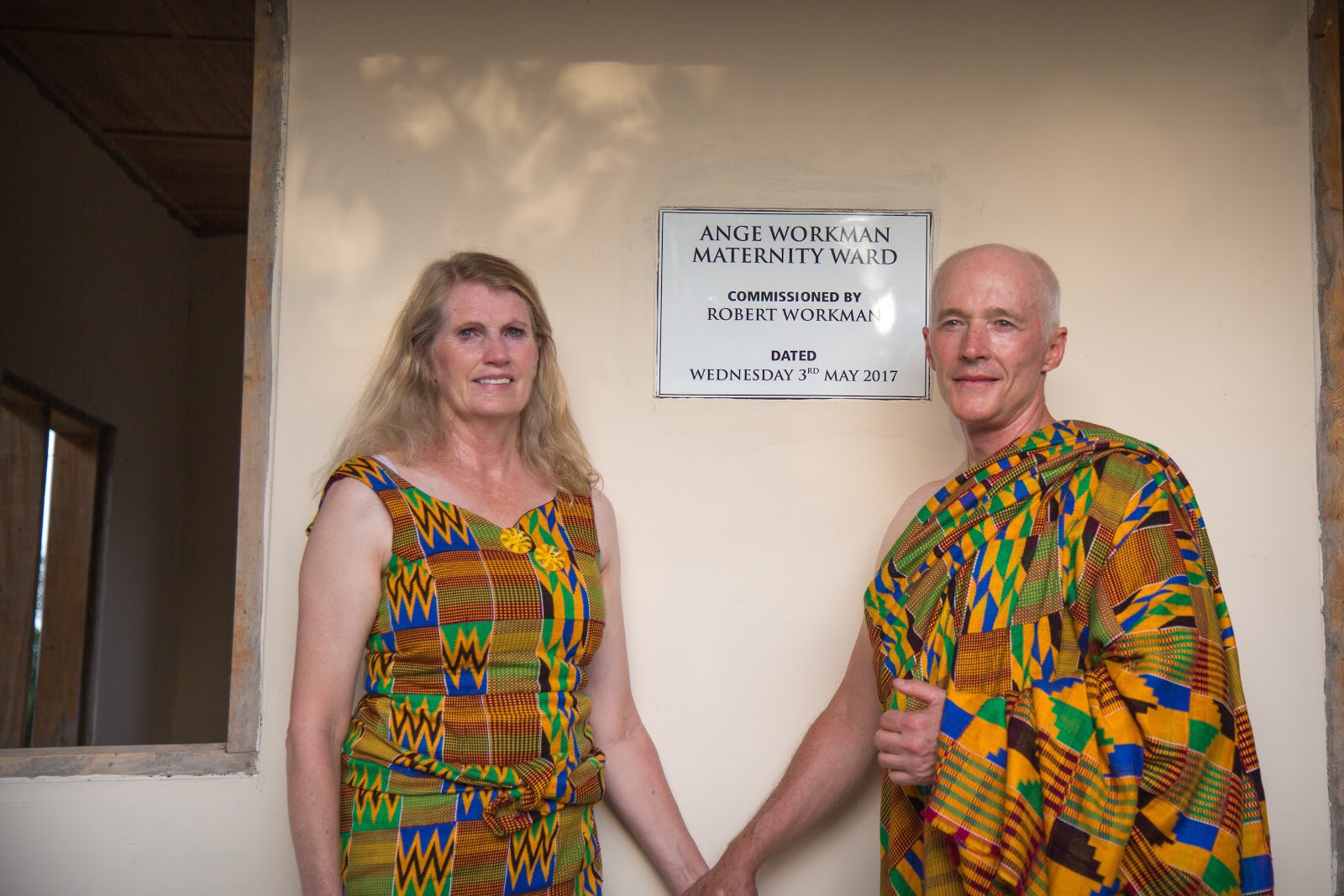 Tifie's overall impact on Angé and what she hopes for its future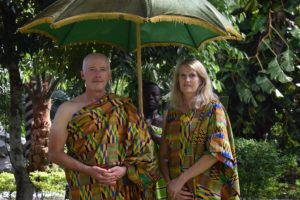 Q: What differences have you had in your life before Tifie started and where you are right now?
"I've always loved learning languages and experiencing other cultures. I wasn't able to do it for many years because I was raising a family and that was okay.

But now that I've been able to do it, it makes me more aware of culture and to be respectful of culture and not just assume that the way I do things is the best way to do things.

I think it helps me to be more empathetic and understanding and more willing to open my mind to ways of doing things. Hopefully it has helped me to have greater love for all mankind. That's something I didn't really quite understand when I was younger but now I can say that I truly can love people that I don't even know."
Q: What do you think makes Tifie Different?
"One hundred percent of any money or donations that come in directly go to help the project. They do not go to any kind of operating cost–at all.  And that's a big thing. People don't even believe that. I know that sometimes people say, 'yeah right,' and kind of poo poo that, but it's true."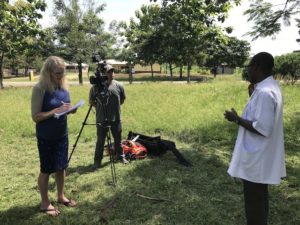 Q: What do you hope for Tifie for the future?
"As long as we can afford to keep doing it without having to seek donations, which we don't like. We've changed the way Tifie operates. It works better to have someone on the ground that works in the culture, knows the culture, is part of the culture.

That has been much better way to go forward. But we aren't trying to reinvent everything and we just give people tools. It may be in the way of money, it might be in the way of solar, it might be in the way of seeds or knowledge–whatever tools they need. And that's the way we foresee that Tifie will continue to go into the future."